Behind The Leonard Fournette Benching
February 13th, 2021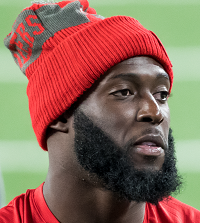 As Joe has shared several times, the Bucs were 8-0 this season when Leonard Fournette got 10 carries or more.
It was no coincidence. Fournette had eight touchdowns and 34 catches in those games.
It's almost hard to remember when "Playoff Lenny" was getting little work, looking below average and perhaps pouting a bit.
He got benched after the Bucs' bye week against the Vikings. And today on TampaBay.com, there's a nugget from Bucco Bruce Arians sharing a bit about the Fournette crossroads.
That brutal honesty came into play in 2020 and may have helped define the season. Running back Leonard Fournette, who signed as a free agent after being unceremoniously released by Jacksonville, was sulking on the bench behind starter Ronald Jones.

Fournette was made inactive for the Bucs' 26-14 win over Minnesota in Week 14. The next day, he met with Arians.

"I said, 'This is your situation. It can change at the drop of a hat,'" Arians said. "But this is your situation. Either embrace it, or you say, 'Cut me.' I said, 'What do you want? Because this is a very special team that you're part of. I think you've got a feeling of that. Just see if you can hang in there to see what happens.' And he did, and I'm really proud of him."
A great and highly underrated coaching by Arians.
So now what? Do the Bucs pay Fournette in free agency and risk him sulking again (with a winning record and playing with Tom Brady). Joe wonders how Bucs officials will view the Fournette experience.