Vita Vea To Return
January 18th, 2021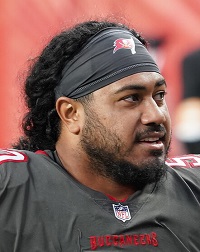 A promising update on Vita Vea came in November, but today's news report on SiriusXM NFL Radio had Joe fumbling a Hooters plate of Buffalo Shrimp.
Could manbeast Vita Vea be back — and playing? — on Sunday after breaking his leg against the Bears 3 1/2 months ago?
Apparently so.
The Bucs are about to activate Vea and check him out during practices this week. Of course, this late in the NFL season is about healing rather than physicality. So it's not like Vea will be able to work his way into football shape.
Still, this is exciting. You can't teach what Vea's got: mass and brute force.
If Vea feels good in practice, Joe would be very excited about his availability in the Super Bowl 20 days from now. It would be an awful lot to ask of Vea to contribute much if anything in Green Bay.