Tyreek Hill Talks Devin White & "Gettin' Drunk"
January 27th, 2021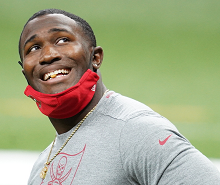 The Cheetah, three-time All-Pro Chiefs wide receiver Tyreek Hill, was talking Bucs this morning.
The Super Bowl is 11 days away and Hill, Kansas City's trash-talker-in-chief, was in a very loving mood on SiriusXM NFL Radio.
Asked what the Chiefs must do to slow down the Bucs and win back-to-back Super Bowls, Hill had an intriguing reply.
"We gotta slow down Devin White first. That man is a beast," Hill told SiriusXM NFL Radio.
Joe suspects Hill is echoing what's in Andy Reid's head.
For those Bucs fans who have blocked out the memory, Hill torched the Bucs for 200-plus receiving yards in the first quarter during their late-November matchup.
He "blacked out" early in that game, Hill says, because he was playing so well and torching Carlton Davis so badly. "I love gettin' drunk off a YAC (yard after catch)."
Hopefully, the Bucs can keep Hill sober in the Super Bowl. He is mortal. Despite a ridiculous 269 yards receiving against the Bucs, Hill had 12 games under 100 yards receiving doing the regular season.
If Carlton Davis, with help can hold Hill to, say, 90 yards on 7 catches and a touchdown, Joe will consider that a win for the defense.