Two Honors For Tristan Wirfs
January 12th, 2021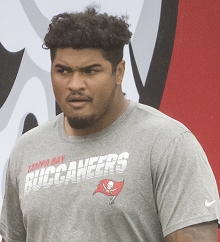 Last week on The Ira Kaufman Podcast, listeners heard Sage Ira talk about his recent conversation with Tony "Father" Dungy regarding their All-Pro ballots.
Each is among the 50 nationwide that vote for the prestigious annual awards.
Ira thought he might be the only voter who would choose Bucs rookie Tristan Wirfs as the best right tackle in football; voters only get one vote for a right tackle. Dungy, however, told Ira that it was at least two votes for Wirfs because he also marked the ballot for the Bucs rookie.
Well, then the voting totals were released late last week. And it turned out Wirfs received 10 votes for All-Pro, coming in third place behind Jack Conklin of the Browns and Ryan Ramcyk of the Saints.
Wirfs got 10 votes, one behind Ramcyk. So Ramcyk got the second-team All-Pro designation while Wirfs got nothing.
Joe can't emphasize how impressive it is that Wirfs pulled in 10 votes for All-Pro. Many voters (not all) will ask NFL executives, coaches and players for help with their ballots, especially for linemen (on both sides of the ball). So Wirfs' showing tells Joe that he's extremely well respected.
This evening on SiriuxXM NFL Radio, former Bengals and Cowboys offensive line coach Paul Alexander joined the Movin' The Chains for his weekly spot breaking down offensive line film.
In advance of the interview, he was tasked with picking his Wild Card Weekend All-Pro team based strictly on what he saw from the six offensive lines that performed on Saturday and Sunday.
And guess who Alexander picked at right tackle? That's right. It was Wirfs, ahead of Ramcyk and others.
Alexander didn't really get into Xs and Os regarding Wirfs, but he was adamant that he didn't have any other Buccaneers offensive linemen in consideration for best performances of the weekend.
Just another knowledgeable observer sold on Wirfs. Joe is so impressed.
Somebody needs to buy Jason Licht a case of beer, or perhaps a new red sports coat.