Tristan Wirfs Talks About His Smooth Ride
January 7th, 2021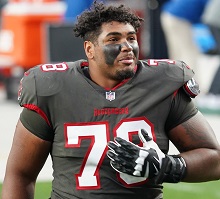 Joe had a serious question for beastly rookie Tristan Wirfs today that may have seemed a little silly.
Thankfully, Wirfs took it seriously and gave a thoughtful answer.
Joe has marveled at Wirfs' film and consistency, but also his attitude and how easy everything looks for him at right tackle. So at an afternoon news conference, Joe asked the Bucs' smiley 21-year-old if the NFL has been easier for him physically than he ever expected.
From Joe's vantage point, Wirfs hasn't even gotten banged up en route to playing every single snap this season.
Wirfs smiled about his great health and looked to "knock on wood" and he noted that he really hasn't had any issues physically but was expecting plenty.
"I was thinking like, you know, it being an NFL schedule, there would be a lot more game I would be just hurting like crazy," Wirfs said. "It is a long season, you know, you get a little worn down. But I was just, in my head, like playing it up a lot more. I thought I was going to be just [feeling] bad."
The All-Pro rookie (per two local legends) repeated that he's been very healthy and ready for more.
Joe hopes that the new breed of Bucs always thinks of the season as 21 week affair. No more bolting for European beaches right after New Year's.