Tom Brady, The Run Game & The NFC Championship
January 23rd, 2021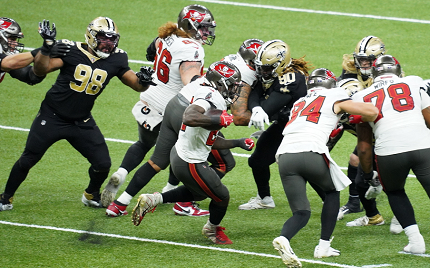 Tom Brady starred in one of the great games of this century, the AFC Championship of the 2018 season. The Belicheats won a thriller, 37-31, and it was a unique game in Brady's career.
He handed off a whopping 48 times, and that yielded a punishing 176 yards and four touchdowns. But leaning on the run game wasn't enough to keep Brady from needing 46 pass attempts to secure a win in Kansas City.
That's 94 snaps, and it's a great example of why Joe expects the Bucs to work hard to establish the run against the Packers on Sunday and lean on it when they can. Because there's a darn good chance Brady airing it out successfully will not be good enough to win.
Prior to 2018, in Brady's previous three AFC Championship games, the Belicheats had zero run game and it was all Brady carrying the offense. Before that, it was Brady taking a backseat to LeGarrette Blount going wild on the Colts, 30 carries for 148 yards and three TDs in the 2014 AFC finale.
Brady has a heavy hand in the crafting the Tampa Bay offensive gameplan, as well as in making gameday decisions. So will he lean towards staying patient with the run? Perhaps more patient than Bucs fans would like?
Forgetting about the Packers' soft run defense for a moment, Joe suspects Brady will be super eager to get that run game going.