Tom Brady: "Experience Doesn't Matter"
January 29th, 2021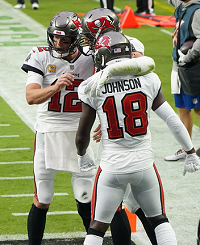 Is there a bigger expert on Super Bowl play than Tom Brady? Of course not.
And yesterday, Brady blew a few holes in traditional big-game clichés.
The man entering his 10th Super Bowl firmly stated that the Bucs' lack of Super Bowl experience is meaningless.
Much like in the postseason, Joe will add.
"No. Experience doesn't matter. Playing well matters," said Brady, while answering a direct question. "The team that wins is not going to be the most experienced team, it's going to be the team that plays the best. So we've got to prepare the best, we've got to execute the best, we gotta perform the best under pressure. And if we do that, we'll be champions. And if we don't, we won't be."
Hey, Brady would know. He's lost three Super Bowls and thoroughly knows that experience in the big game is overvalued.
Did experience win the Patriots-Falcons Super Bowl? Or was it a complete meltdown by an Atlanta team unprepared to close out the game?
On another front, Brady let a little air out of notion that he is a supreme leader of the entire Bucs roster.
Simply stated, restrictive COVID rules crushed any hope of Brady buddying up to every player over five-month preseason and in the regular season.
'There's a lot of people [on the Bucs] that I just have never really got a chance to get to know. Certain players on defense that I just don't know very well," Brady said yesterday. "We're not able to be together in certain rooms, we're not able to eat together, we're not able to travel well [and] we don't get the normal camaraderie that you have on a normal team. So under the circumstances, we're all doing the best we can do and, you know, it's been a tricky year in that sense."
Yes, Joe believes experience and leadership matter, but they do get a little overblown. Regardless, they represent a reason that Joe is extra fired up for next season. Just imagine what Brady might be able to accomplish in a normal year, with a playoff-tested roster and more of his personal coaching.