Time For The Secondary To Step Up
January 16th, 2021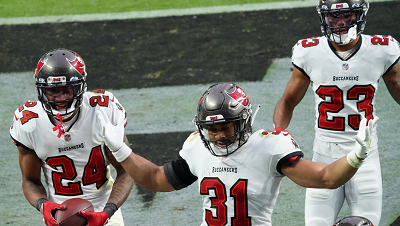 Is the Buccaneers secondary playing better than it was when it walked off the field at the end of the 2019 season?
Joe can't say that at all, but Joe can say there's enough talent back there to make game-changing plays in Sunday's playoff game in New Orleans, and to show Bucs fans that the unit can recapture its early-season form.
Will Carlton Davis look like the Pro Bowl corner that coaches — and he — claimed he is?
Will Sean Murphy-Bunting play like a No. 39 overall pick in the draft should?
Jamel Dean has officially defended just two passes in his past 10 games. The same guy defended 17 passes in just five starts last year. Will the old dean show up in New Orleans?
What about Antoine Winfield, Jr.? Does he have more big plays in him, like he's sprinkled in throughout his strong rookie season?
Where was hard-hitting safety Jordan Whitehead against Washington?
Bucco Bruce Arians had an interesting take on the defensive backs this week. Joe asked whether there is a player among the young group that Arians thinks is best suited or positioned to draw from experience and help lead the unit through its toughest test yet on Sunday.
One reason Joe asked is because Arians often has said his goal is to have one strong leader in every position group, and former Arians cornerback Patrick Peterson told Joe the same thing during a private chat at the Pro Bowl a couple of years ago.
Arians replied saying that Murphy-Bunting is the big talker among the defensive backs but it's really just a matter of the individuals stepping up on and there is no standout leader.
Joe's hopes the secondary can hold up against the Saints like it hasn't in weeks. It's not just critical to beating the Saints, Joe believes, but also to having enough confidence to cruise in Lambeau Field in frigid conditions and play confidently against surgeon Aaron Rodgers next week.
Good luck, men.