Soft-Coverage Blues
January 11th, 2021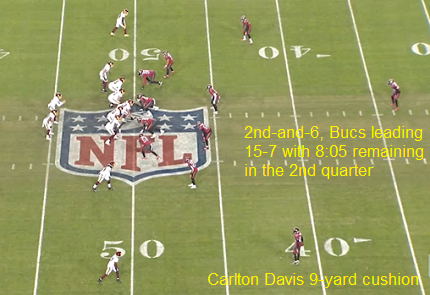 Yes, Joe is fully aware that a team can't blitz and play man-to-man in the secondary on every snap. However, the Bucs playing softer coverage this year and often struggling in zone has Joe completely exasperated.
The all-22 film screen shot above is from the second quarter on Saturday, just after the Bucs foolishly went for two after a touchdown gave them a 15-7 lead (was there a good reason not to go up two scores against what you thought (at the time) was a shaky Washington quarterback?). Washington was driving with ease after an end-around went for four yards on first down.
As you'll see above, Carlton Davis gives 1,100-yard receiver Terry McLaurin a nine-yard cushion — and Davis was backpedaling at the snap of the ball. The result was an easy first-down completion in front of Davis, a pitch-and-catch throw.
That kind of approach drives Joe nuts. It's a flashback to the Mike Smith era, and that's what Joe was hear a lot of on Twitter more than a handful of times through the game.
Why make things so easy — in Buccaneers territory — for a quarterback making his second start? Especially when your offense is hot?
Joe hopes the Bucs find a way to be a little more aggressive on Sunday. Fans have been told Davis is a Pro Bowl-level corner. Joe is confident Davis can handle a five-yard cushion versus this kind of charitable play.
---
Bucs legend Derrick Brooks and Ira Kaufman react to Saturday night's win on TAMPA TWO. The fun is presented by The Identity Tampa Bay and Joe.