A Clue On The Bucs Re-signing Chris Godwin
January 11th, 2021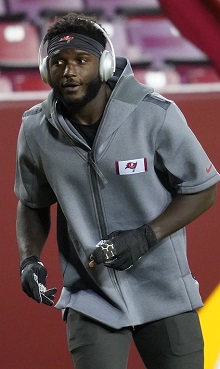 One benefit of being a network game announcer is having a rather private "production meeting" with each team's starting quarterback, and other key players and coaches, prior to a game.
It's an organized way for the announcers to serve up fresh insight to their listening audience.
And players often are a little more candid during those chats than they are at a news conference.
So it really stuck out to Joe when on Saturday night, NBC game analyst Tony "Father" Dungy said the following regarding Tom Brady's pregame chat with him and play-by-play man Mike Tirico.
"Tom Brady told us. Chris Godwin is an exceptional receiver, he told us the best hands he's ever been around," Dungy said. "Big man who can run, he's delighted to be able to throw the ball to him."
Father Dungy's words came late in the first half just after Godwin hauled in a touchdown to put the Bucs ahead 15-7 against Washington — and before Godwin found a very rare case of the dropsies.
Joe has heard Bucco Bruce Arians openly gush about how Godwin is selfless, a legendary blocker and an elite route runner with extraordinary toughness, and Arians has compared him to Hall of Famers. But for Brady to say Godwin has the best hands he's ever been around, that might be even higher praise.
Hearing of Brady putting Godwin in that class of receiver makes Joe believe Brady will use whatever muscle he has to make sure Godwin returns next season.
Godwin, of course, can become a free agent in a matter of weeks and is sure to want what receivers like Amari Cooper and Keenan Allen are earning, $20 million per season.