Shaq's Shining Revival
January 24th, 2021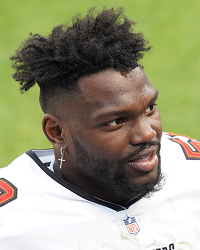 What a night Shaq Barrett picked to come out of witness protection!
Three mighty sacks of Aaron Rodgers for the 2019 sacks king, who had gone dormant for weeks after just an ok season rushing the passer.
Shaq was an absolute animal in the NFC title game. And man, did Shaq just earn a fortune in free agency. He already would have been in demand, but a performance like this racks up plenty of extra millions.
Now Shaq gets a chance to do it on the biggest stage, and take home his second Super Bowl ring. His first came with the Broncos and Peyton Manning.
Joe is so fired up for Shaq, and for the revival of the Bucs' pass rush as as whole. They'll need it in two weeks — in the Super Bowl!