Rondé Barber Expects Coaching To Show Up
January 7th, 2021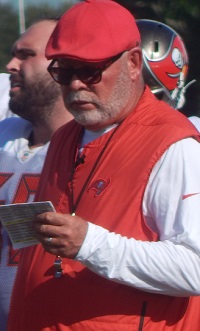 One can always count on Buccaneers legend Rondé Barber for a fresh perspective.
The first-time Hall of Fame finalist (get him in, eye-RAH!) shared takes on the Bucs this week during an interview on official team-sponsored radio programing.
Barber emphasized that preparation dictates results and he emphasized — multiple times — that he places that squarely on coaching. Barber's enthusiasm for the Bucs' prospects in the playoffs comes from their talent level and how the team has proven it can turn in elite performances.
Barber stressed that the defense's big-time capability may be a bit underrated, and he expects the juice from a playoff game to bring out the best in everyone on the field and on the sidelines on Saturday.
"With that little jolt of adrenaline comes a hyper-focus, if you're prepared, if you're ready for it," Barber explained.

"Again, I put this on our coaches because they've been there; they understand what it takes to win in the playoffs. You know, with that little bit of [playoff] energy comes a hyper-focus that can make your best day happen on that one given day. So that's what I'm expecting."
Joe's expecting it, as well.
The Bucs' slow starts were out of control and inexcusable through much of this season. As Barber said, preparation was the cause. But that appears to be in the rear view mirror and it certainly should be.
Over 60 minutes, Washington can't hang with the Bucs — unless Tampa Bay is unprepared.