RoJo's Injury Wasn't Random
January 11th, 2021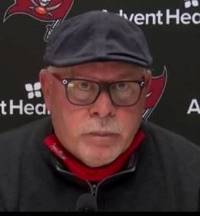 Joe thought it was weird that Ronald Jones couldn't answer the bell Saturday night with a quad injury, given the fact he was active on the gameday roster.
And he may not be able to hit the field come Sunday when the Bucs host the slimy Saints.
(Column rant: Joe's Twitter timeline was absolutely loaded Sunday with references to "slime." And it wasn't specifically about the Saints. Then there were weird videos from the Bears-Saints game with garish graphics on the field of the Superdome. It looked more like a pinball machine than a football field. What the hell was going on and what is the big deal with green paint and "slime"??? It was truly annoying Joe.)
On last week's injury report, RoJo was listed with a quad injury each day, though he was a full participant in each practice.
Asked about his injury today, Bucs coach Bucco Bruce Arians wasn't exactly sure what happened. Arian said RoJo "didn't feel like he could open up" his frame.
"He looked fine Thursday and Friday," Arians said of RoJo. Arians guessed maybe sitting on a plane for a couple of hours on the flight to Washington resulted in the injury swelling. But Arians was clear he was unsure.
As for RoJo's availability Sunday, Arians gave a not-so-calming response, "We'll wait and see."