"Eye-opening" From Leonard Fournette
January 11th, 2021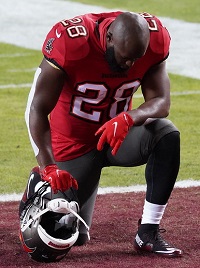 Saturday's 23 touches from Leonard Fournette left one former Buccaneer glowing about the ex-Jaguars star, and a lot of Bucs fans wondering where Fournette will play next season.
Given the starting nod at the last minute, Fournette busted out multiple spin moves and his former-stellar hands returned, catching all four balls thrown his way. He was smooth on the screen pass and had a combined 115 yards from scrimmage.
Yeah, he slipped for now good reason and missed a two-point conversion, and he shied away from contact with a defensive back (Joe will spare Fournette the video), but he was a willing blocker and certainly looked like a quality starting running back.
Fournette turns 26 next week and he caught the attention of former Bucs tight end Anthony Becht.
"An expected offensive player that did a great job, [Leonard] Fournette, I mean I've been very adamant about, you know, RoJo being the guy. And here you go: Fournette steps into the role," Becht said on WDAE radio this morning. "He's kind of been up and down all year and he really played a really good game.

"It was eye-opening to me what he did and what he brought to the table in that football game."
Becht calling Fournette's showing eye-opening is sort of eye-opening to Joe. This was just about what Joe expected from Fournette when he was signed just prior to opening day, but Bucs fans didn't get the Fournette of 2017 and 2019.
Regardless, Fournette has to now be steaming with confidence and hungry to be rumbling hot toward a multiyear contract somewhere. Joe hopes it's not in Atlanta replacing Todd Gurley.