Rob Gronkowski Appreciates Playing For An Offensive Guru Head Coach
January 21st, 2021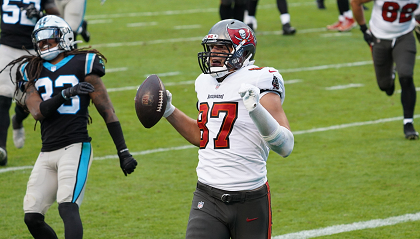 Interesting take today from Tampa Bay tight end Rob Gronkowski.
Joe expects some Belicheats fans will be annoyed.
Asked about what stands out regarding the coaching style of Bucco Bruce Arians, Gronk explained that he's being coached in a way he not used to.
"You know, just the offensive knowledge he has," Gronk said of Arians. "Just the little details that he presents and brings to us and the knowledge of where everyone should be, or the knowledge of [a] route, just the specifics and the details of everything. Just when you thought you ran a great read or you read the coverage right, he always has a little bit more knowledge. Just his knowledge of the offensive side of the ball is just phenomenal."
Joe heard all that from Gronk and wondered if Tom Brady thinks and feels the exact same thing.
And yes, Gronk reiterated to Joe and virtually assembled media today that he wants to play for the Bucs next season, if they'll give him a new  contract.