Plan Is To Limit Vita Vea To 20 Snaps
January 21st, 2021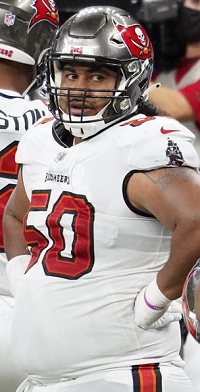 What Bucs fans can expect from Vita Vea on Sunday is becoming clearer.
First, it's unclear whether the manbeast defensive tackle will play, but Bucco Bruce Arians was optimistic last night on SiriusXM NFL Radio.
Arians said he will get a look at Vea in Thursday's practice, though Arians put a cap/goal on Vea's total snaps against the Packers at 20.
It'll be interesting to see how the Bucs break up those snaps, if Vea plays.
Will they look to use him on run downs to limit running back Aaron Jones, or will Vea play more often on passing downs to get more push up the gut? Of course, forcing Aaron Rodgers out of the pocket isn't always a good idea. So Joe thinks Vea will be more run stuffer than pass rush specialist on Sunday.
Either way, it's very exciting to get the big fella back.