"No Adjustment"
January 13th, 2021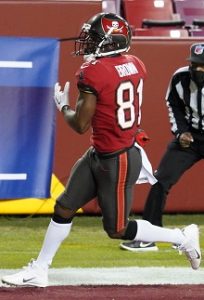 A couple of interesting takes on why the Bucs are special from two of Tom Brady's many BFFs.
First up is a guy who won three rings with Brady, retired linebacker Tedy Bruschi.
What impressed Bruschi about Tampa Bay on Saturday?
"No adjustment from the Bucs offense," Bruschi told his BSPN audience. He was expecting Brady to have more quick-release throws and an offense designed to fend off Washington's strong defense.
Instead, Bruschi said he saw a Bucs offense that simply played its game and mauled an opponent.
Joe thinks Bruschi was spot-on with that assessment. The Bucs played their game on offense and it was more than enough.
During the same TV segment, ex-Belicheats star and Brady buddy Randy Moss noted how Brady forced balls to Antonio Brown so he could get a fat cash bonus in Week 17. (Moss didn't mention that Brady hosed Ronald Jones's shot at 1,000 yards rushing in the process.)
Moss said he loves the Brown-Brady chemistry and it was no surprise that Tampa Bay threw its first playoff touchdown to Brown, and that love for Brown in the offense rolled over into the early minutes the playoff game.
That was especially noteworthy, per Moss, because Brady go-to, double-digit target guys in the game were Mike Evans and Randy Moss.
And just for fun, Joe will add that Rex Ryan, the former Jets and Bills head coach and defensive guru who faced Brady countless times, was appalled by the Bucs defense. Ryan barked on BSPN that Todd Bowles and friends made third-stringer Taylor Heinicke look like Doug Flutie in his prime.
Joe expects the same approach from the Bucs offense on Sunday in New Orleans. Win the trenches, a battle the Bucs usually lose to New Orleans, and let the many weapons take over.