Neat Milestone For Tom Brady
January 11th, 2021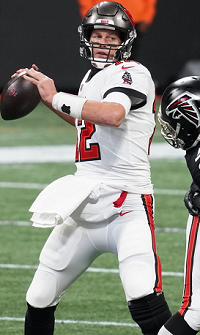 Lost in all the celebration of the Bucs' first playoff win Saturday night since January 2003, was an under-the-radar Bucs record set by park-violating, home-invading, NFLPA-ignoring, down-forgetting, handshake-stiffing, jet-ski-losing, biscuit-baking quarterback Tom Brady.
In just his first Tampa Bay playoff appearance, at the age of 43, Brady shattered the team record for passing yards in a postseason game.
His 381 yards passing over Washington on Saturday easily could have been over 400 yards but for all of the drops.
In January 2003 when the Bucs closed down "The Vet," Brad Johnson threw for 259 yards. The next week, Johnson would record his current No. 3-most Bucs passing yards in a postseason game by throwing for 215.
Joe doesn't know if Joe will ever see a Bucs quarterback break Brady's record. But Joe sure as heck would love to see it broken.
Hey, who knows, maybe Brady will go nuclear on the slimy Saints on Sunday?
— Tom Brady (@TomBrady) January 10, 2021