Leonard Fournette Says "A Cool Head Wins A Hot Game," Talks About His Two Drops
January 25th, 2021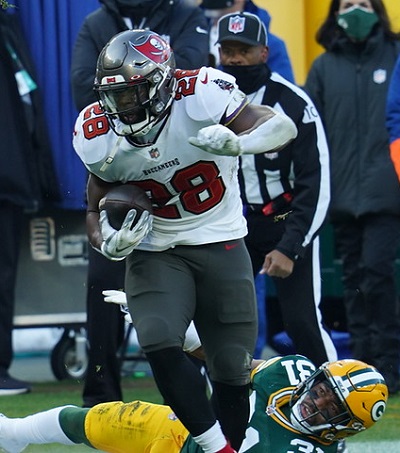 Leonard Fournette, affectionately known as "Playoff Lenny," has carried the mail in the Tampa Bay backfield all through the playoffs.
Through three playoff games, Fournette has grinded out 48 carries for 211 yards, with 14 catches and three touchdowns overall.
It hasn't always been smooth, though, Fournette had a couple of drops on short throws yesterday in Green Bay, and he talked about them on SiriusXM NFL Radio today.
The setting sun was the main issue, Fournette said, "I couldn't see the ball at all. I'm not going to lie to you. … I was frustrated because I know it's a big game and those little things like that can haunt us in the end."
Fournette added that coaches encouraged him and he was pushing himself to "shake it off" and tap his maturity to not let the drops rattle him.
"A cool head wins a hot game," Fournette said. He was referring to Tom Brady and Aaron Rodgers, but the one-liner might as well been for himself.
Regarding the offense as a whole, Fournette talked about the Bucs desiring to have a precision approach yesterday in order to keep Aaron Rodgers off the field and get the defense rest.
Man, Joe doesn't know where the Bucs would be without Playoff Lenny.
Consider this, the Bucs are 7-0 this season when Fournette gets 10 or more carries, and in those games he has 30 receptions and seven touchdowns.
Joe is sure the powers in charge at One Buc Palace are well aware of those numbers.