"Lenny" Leads The Way
January 17th, 2021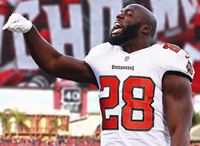 For those counting, it was 107 yards from scrimmage tonight from Leonard Fournette, the Bucs' production leader by a mile in a game where yards were hard to come by against a stingy Saints defense.
And the crazy thing is "Lenny," as his teammates call him, left some yards on the field at times because of his apparent unwillingness to run through and/or over people.
Still, Joe greatly appreciates the cool Fournette brought to the game and his reliability on third down in the passing game. He led the Bucs with five receptions and his running was sound in the first half when the Bucs needed him most. On the ground, Fournette rumbled to 63 yards on 17 carries.
Do the Bucs win this game without Fournette? Maybe not. Ronald Jones isn't the receiver or blocker Fournette is and RoJo's injured quad might not have held up with a full workload on the ground.
Tonight was exactly why Joe screamed for the Bucs to load up at running back in free agency. Fournette brought experience and talent, and they both showed up tonight.
Bravo, Jason Licht.