Joe Tryon And The Bucs
January 23rd, 2021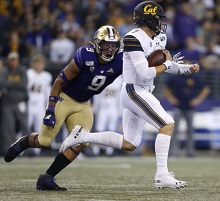 Stressed as we count the hours until tomorrow's 3 p.m. Bucs kickoff at the NFC Championship?
Joe's got a fresh 2021 mock draft from a true draft guru to divert your attention.
Former Ravens, Browns and Eagles scout Daniel Jeremiah, the former college QB who now is the lead NFL Network draft guru, popped his first mock draft of 2021 yesterday.
Mock draft season in Tampa is usually served with stuffing at Thanksgiving, but this is a very different and glorious year.
Joe enjoyed this mock draft primarily because Joe had to scroll so far down the page.
Of course, the Bucs' draft position isn't set yet, but Jeremiah hypothetically placed them at No. 29, which apparently means he believes they will lose Sunday at Green Bay. (Booo, Jeremiah. Booo.)
Jeremiah has the Bucs possibly trying to replace free-agent-to-be Shaq Barrett with a bigger linebacker/edge rusher, redshirt junior Joe Tyron. He stands about 6-5, 260 pounds out of the University of Washington.
Tampa Bay Buccaneers

Joe Tryon · Edge rusher
Tryon is very well regarded around the league. He has size, length and power. He would be a nice fallback option if the Bucs lose Shaq Barrett in free agency.
Joe is always in favor of drafting a pass rusher, but Tyron is a unique choice because he didn't play during the 2020 season. He opted out of the season early and declared for the draft when The Sickness put the Pac-12 season on hold.
How do you judge a guy like that well enough to choose him in Round 1?
This draft will test the skills of scouting departments like no other, especially after the NFL just banned private workouts and player visits to teams.