Ira Kaufman's 10 Takeaways From Bucs-Falcons
January 4th, 2021
BY IRA KAUFMAN
Buc Nation has never seen an offense like this one. Few NFL fans have.
In the past 10 quarters, this attack has been unstoppable. Not just exceptional — unstoppable. Whatever was said in Atlanta at halftime two weeks ago ought to be bottled and sold at sporting events throughout the nation.
Tom Brady is playing off the charts, and he's taking teammates along on his hit parade.
Here's your proof:
In their past 150 minutes of action, the Bucs have generated 122 points, 80 first downs and 1,429 yards. On a per-game basis, that translates into an outrageous average of 49 points, 32 first downs and 572 yards since the Falcons took that 17-0 halftime advantage.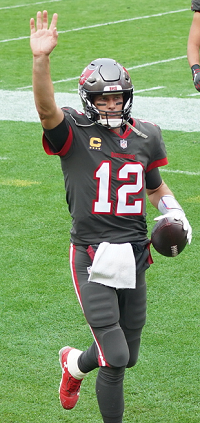 This offense has to scare the bejesus out of the Packers, Saints and Seahawks, not to mention Tampa  Bay's upcoming opponent, punchless Washington. Every time you turned around Sunday, Bradley Pinion was putting the ball on a tee. At least all those kickoffs kept him busy because Pinion didn't punt all afternoon long.
In their nine full possessions, the Bucs scored five touchdowns, added three field goals and turned the ball over once.
Scotty Miller's gaffe represents their only giveaway during a 4-game winning streak, marred Sunday by the hyper-extended knee suffered by Mike Evans. Even if Evans is cleared to play at FedEx Field, here's one vote for sitting him out. The Bucs should beat Washington without Evans, especially the way Antonio Brown has been coming on in recent weeks.
If two weeks off will help Evans achieve a full recovery, keep him on ice until the conference semifinals.
As usual, the Falcons played hard. As usual, they continued to prove they don't know how to win, reminiscent of some of those 5-11 Buc teams Tampa Bay fans endured during the playoff drought.
Brady, the original drought-buster, is having the time of his life. He looks liberated, refreshed, driven. Most importantly, he looks healthy. He capitalized on superior field position to torment Atlanta's defense yet again.
Now the Bucs hit the road, where they are 6-2. They may lose Evans in the opening round, but they could get an important player or two back from the sidelines, which should help.
This is a very dangerous football team at the moment, brimming with confidence and the knowledge that their quarterback is 30-11 in the postseason. Fire the cannons for a No. 5 seed poised to plunder.
Here's how the 11-5 Bucs closed out the regular season in style:
* This offensive line has come a long way since some early-season doldrums. Donovan Smith has raised his game while rookie Tristan Wirfs has been a rock since Week 1. Protection for Brady will be the priority against Washington's fierce pass rush, led by Chase Young. "We want Tom, we want Tom," Young chanted as he walked off the field Sunday evening. Be careful what you wish for, rook.
* It was encouraging to see Ronald Jones run with power and decisiveness. Rojo came up a bit short in his quest for a 1,000-yard season, but he finished in a tie with Devin White for Most Improved Buccaneer.
* The Antonio Brown experiment has been an unequivocal success. No pouting early on as he was learning the offense. Steady growth to the point that containing Brown will be a critical aspect of Washington's defensive game plan.
* Speaking of defense, Todd Bowles can't be happy with his guys, not after Matt Ryan completed 29 passes and Brian Hill escaped for a 62-yard run down the sidelines. Without the threat of Julio Jones, Calvin Ridley and Russell Gage should not have latched onto 17 passes in their 23 targets.
* Buc fans are spoiled by having a terrific stadium with outstanding turf, but the footing on the field Sunday was treacherous. This is the NFL, not Tampa Jesuit against Chamberlain. Players were falling over untouched when making cuts. That's a dangerous situation … just ask No. 13.
* Greg Jennings once caught 80 passes for the Green Bay Packers. On Sunday, he served up roughly 80 platitudes as the color commentator for the Bucs broadcast. Shame on FOX executives for saying goodbye to Ronde Barber while bringing on Jennings, who told us 11 times that the Falcons are close to being an elite team. Has he looked at that roster?
* Ndamukong Suh, who turns 34 on Wednesday, continues to play at a high level. He registered Tampa Bay's only sack and was credited with two of the team's six hits against Ryan. Without the presence of Vita Vea, Suh has been the steady interior force the Bucs need.
* Nice to see Ryan Succop rebound from last week's struggles. Facing tougher opponents, the Bucs can't be expected to score touchdowns at a record rate. Succop's steady right leg figures to be critical in the postseason, especially in lousy conditions.
* Any more questions about Brady's ability to get the ball downfield? Didn't think so. Seven of his 26 completions covered at least 20 yards, with Brown and Chris Godwin grabbing three apiece. Crisp weather is forecast for the nation's capital Saturday night. Brady figures to supply the heat.
* An 11-5 record and the end of a forgettable era in Buc folklore. That's called football nirvana for the die-hards now bracing for a little Saturday Night Fever. Cue the Bee Gees soundtrack because it's all about Stayin' Alive, with Brady looming as the ultimate survivor.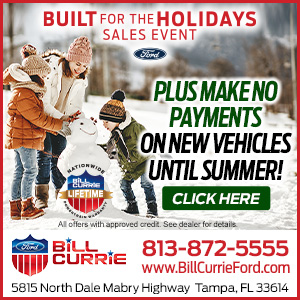 Amazing offers at BillCurrieFord.com. Don't blow it!
.