"I'm Glad There's Going To Be 3,000"
January 12th, 2021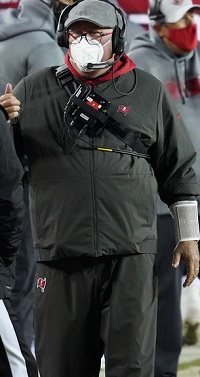 Slow starts or fast starts, Bucco Bruce Arians can deal with those.
But there's one thing about starting a game it seems he can't handle well.
That would be silence.
And that's why Arians is happy (almost oddly too happy) that the cavernous Superdome is permitted to host 3,000 fans on Sunday, as it did last weekend when the Saints beat the Bears to advance to play our beloved Buccaneers.
For Arians, that tiny fraction of a crowd (Joe will call it a studio audience) is far better than the alternative.
"I'm glad there's going to be 3,000, because when we went there for the opener, it was dead. I mean dead, dead. And it's like, it was eerie," Arians told The Dan Patrick Show today. "At least we'll have some noise. I want to hear people booing or cheering. It adds to the game. That dead silence or that airplane noise, it's not been good."
As he did months ago, Arians referenced how things just weren't feeling right on the road in night games against the Bears and Giants in empty stadiums.
Joe's just glad the Bucs won't have the silence distraction/excuse for Sunday's game. If they need a little noise to feel good about the game, then thank you New Orleans government officials.