"I Envisioned This Game"
January 14th, 2021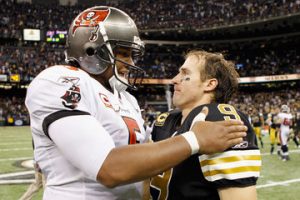 A fascinating and truly historic result will occur when the final whistle sounds on Sunday's Buccaneers-Saints game.
Either a 42-year-old or a 43-year-old starting quarterback will be marching to the NFC Championship game.
(In case you're wondering if Tom Brady broke his diet, that's Joe's favorite Josh Freeman picture above, before the ugliness of The Lost Decade of Bucs football set in.)
It's a crazy thought to think of the history fans are about to witness. Joe doesn't like to get to sappy about this stuff, but it is very cool and Joe suspects the TV ratings will be massive.
It's also wild to think that Drew Brees and Tom Brady have the same private quarterback coach, former baseball pitcher Tom House.
Brees was talking yesterday and said a couple of times that he "envisioned this game" when Brady signed Tampa Bay.
Man, that sure speaks to the awe Brady evokes. Brees himself didn't think future Hall of Fame QB Matt Ryan would bounce back the Falcons, which beat the Saints in 2019, or that his good friend and former teammate Teddy Bridgewater would revive Carolina. No, Brady signed and Brees was thinking major playoff clash with Brady leading the woebegone Bucs.
Grab a cold Big Storm beer and enjoy it.