"I Don't Accept Anything This Week At All"
January 7th, 2021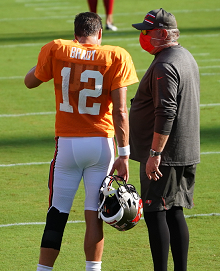 There are at least a couple of guys cracking whips at One Buc Palace.
Joe asked Bucco Bruce Arians today to expand on his comments last night to the nation on SiriusXM NFL Radio. The head coach had noted Tom Brady raised his expectation level in practice this week and it's been fun to watch.
"It's just even more attention to detail," Arians explained today with a wry expression.

"Some things he might have let go and talked on the side, he (laughs), he addresses immediately. Same with me. I don't accept anything this week at all. If it's a little bit off, if it's two yards off your reception area, you better get your ass in the right spot."
Joe liked that Arians said he, too, has upped the bar when it comes to the details. That's coaching experience. You can demand excellence every week, but when you enhance the nitpicking on execution during a playoff week, that sends a clear message.