"He Ain't Accepting Anything But The Best"
January 6th, 2021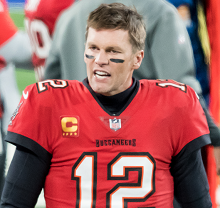 It appears Tom Brady put his foot down with an extra fire this week.
It's even drawing fat smiles from Bucco Bruce Arians.
No, Joe's not calling Arians fat. But you could hear the broad smile in Arians' voice tonight when he talked about leaning on a veteran like Brady at this time of year.
Arians said the Bucs ran a full and normal no-pads Wednesday practice today, but he the spectacle wasn't the kind you see all year long.
"When you're at practice this week, man, you better be on your Ps and Qs because he ain't accepting anything but the best," Arians said of Brady tonight on SiriusXM NFL Radio. "It's been really, really good. Fun to watch. We had a really, really good practice today."
The Bucs had a walk-through yesterday. So today's session was a different animal — which it seems Brady has become since the Bucs shifted to the postseason.