Hall Of Fame Honors Mike Evans With A Display; Devin White Activated
January 10th, 2021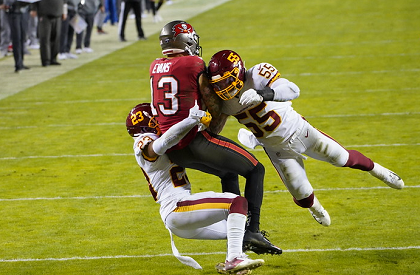 Mike Evans inked two more impressive lines on his resume yesterday.
The first came before the Washington game, when the Pro Football Hall of Fame finally announced it has secured Evans' cleats and jersey from his record-setting game one week ago. Against the Falcons last Sunday, Evans hit 1,000 yards receiving for the season, and that set the NFL record for most consecutive seasons (7) with 1,000 yards or more to start a career.
(See the Tweet from the Hall and their new Evans display below.)
The next accolade came when Evans returned from an ugly-looking knee injury in just six days to not just play last night, but Evans rang up 119 yards on six catches in his first playoff game.
What more can be said about the greatest receiver in Buccaneers history?
Next week against the Rams or Saints, Evans will be joined by savior linebacker Devin White, who is all jacked up to play after missing two games on the NFL's "crazy" COVID-19 list. That's White's adjective, as you can see below.
We have activated Devin White from that crazy covic 19 list !!!! I'm ready to practice man ! LETS WORK 🤠

— DEVIN WHITE (@DevinWhite__40) January 10, 2021
From the gridiron to Canton: @Buccaneers WR @MikeEvans13_ became the 1st player in @NFL history to begin their career with seven-consecutive seasons of 1,000 rec. yards. We collected the jersey and gloves worn by Evans in the Bucs' Week 17 victory.

More: https://t.co/f3Dy9C211R pic.twitter.com/i5Z6mguY4d

— Pro Football Hall of Fame (@ProFootballHOF) January 9, 2021