A True New Era
January 10th, 2021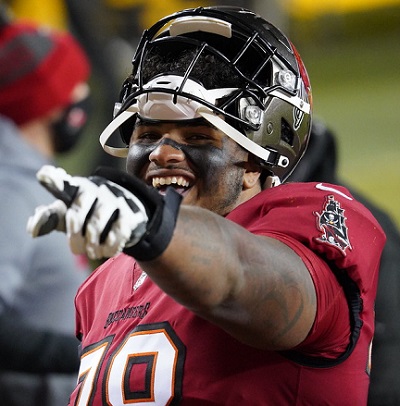 Following the Bucs winning their first playoff game in 18 years last night, Joe confesses to weeping like a third-grader who lost her new gold bracelet on a playground.
Eighteen years. 
A lifetime ago.
If the Bucs had lost in Washington, Joe wouldn't have called this season a failure, but doubt about what the Bucs achieved would have been real and fair, and a deep and raw wound requiring many months to heal.
Instead, now every fan can sit back and savor that the Bucs truly have turned a corner as a franchise. The stench is officially gone. The dark cloud over One Buc Palace has blown out to the Gulf.
Not only is Tom Brady here and healthy and ready for another season or more, but franchise cornerstone warriors like Tristan Wirfs, Mike Evans and Lavonte David came to play on the big stage and impressed plenty of eyes. (Look below to see what legendary left tackle Joe Thomas threw out on Twitter during the game.)
An allegedly ferocious Washington defense offered little resistance for a dream-team Bucs offense that is good enough to ring up enough points to beat every team in the NFL, and deep enough to handle multiple setbacks.
Joe's also celebrating how coaches have found ways to turn Antonio Brown and Leonard Fournette into exemplary team players while seemingly motivating the roster to gut through injuries.
The old empty slogan was "it's a new day in Tampa Bay." Maybe it's time to bring that back.
.@TristanWirfs74 is really damn good

— Joe Thomas (@joethomas73) January 10, 2021