Gameday Tampa Bay (NFC Championship Edition)
January 24th, 2021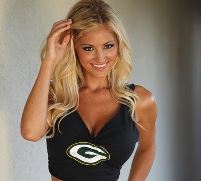 NFC Championship
Bucs (13-5) at Packers (14-3)
Kickoff: 3:05 p.m.
TV: FOX (WTVT-TV Channel 13, locally).
Streaming: Fans may stream the broadcast from Buccaneers.com or on a mobile device using one of the following: Buccaneers official app, or Yahoo! Sports app. Geographic restrictions apply.
Radio: Buccaneers Radio Network WXTB-FM 97.9 in the Tampa-St. Petersburg region; 97.9 FM ESPN Radio in Tallahassee (Transmisiones de radio en español en WTMP-FM 96.1 y WMGG-AM 1470 en Tampa). Additional stations throughout Florida on the Buccaneers Radio Network can be found here. The game will also be broadcast on SiriusXM Channel 82 (Bucs broadcast) or SiriusXM NFL Radio Channel 88 (Westwood One national feed).
Weather: Tom Brady is undefeated in conference championship games (4-0) when the temperature is 32 or lower. So it is a good sign that per AccuWeather.com, the temperature expected for kickoff 31 degrees. For late-January in northeastern Wisconsin along Lake Michigan, one cannot hope for much better conditions. The overnight snow should be finished by kickoff, and it will be cloudy but with virtually no wind. By the end of the game, look for the temperature to only drop slightly to 28. In all, a good weather day for an NFC Championship game at hallowed Lambeau Field.
Odds: Per BetMGM, as of last night, Packers -3.5; 52 over/under.
Zebras: The game will be officiated by Clete Blakeman's crew. Blakeman's crew, in 15 games this season, had one of the fewest numbers of penalties called. Blakeman's crew had the sixth-most flags for roughing the passer (7) and eighth-most for holding (46). Blakeman's crew had a total of 171 flags thrown.
Outlook:  The Bucs are clearly a different team since these two squared off in Tampa in Week 6. One could argue so are the Packers. Against the Bucs, per NextGen stats, Packers quarterback Aaron Rodgers was 3-12 with two picks against the blitz. Since? He's thrown 15 touchdowns against 1 pick against the blitz. The Bucs blitz hasn't been that effective in the past eight games. In that same timespan, the Bucs have allowed 13 touchdowns against one interception while blitzing. Joe thinks a combination of what handicapper Warren Sharp has been pleading Bucco Bruce Arians to do (pass on first down) along with what NFL Network's Michael Robinson has been begging Arians to do (pound the rock) can work. A halftime lead is very likely a make-or-break element of the game. Aaron Rodgers is 70-1 in Lambeau Field when the Packers lead at halftime. So it is beyond critical, maybe fatal, if the Bucs do not have the lead at halftime. Let Brady and his magic and those superior receivers make plays. Once the Bucs have the lead at halftime, then Arians should start going ground-and-pound and let the Bucs' offensive line maul the soft Packers run defense into submission and put the game away. Points — and a bunch of them — in the first half cannot be stressed enough. Some numbers for you: In this year's postseason, the Bucs have the most points off takeaways (27) and second-most takeaways total (5). … … Some comparison team stats in league rankings: Bucs: Total offense 7th, passing offense 4th, total defense 6th, rush defense 1st, points scored 3rd, points allowed 8th, sacks 4th, sacks allowed tied for 4th,  turnover margin 6th (+8). Packers: total defense 9th, passing defense 7th, total offense 11th, rushing offense 8th, points allowed 13, points scored 1st, sacks allowed tied for 2nd, sacks tied for 10th, turnover margin 7th (+7).
Trinkets: … QB Tom Brady is the postseason all-time leader in starts (43), completions (1,065), passing yards (11,968), passing touchdowns (77) and Super Bowl titles (6). He is tied for second in passing touchdowns (franchise-record 40) and third in passing yards (4,633) in 2020 and became the fifth quarterback in NFL history with 2+ seasons (2) of 40+ touchdown passes. He has totaled 3 touchdowns (2 passing, 1 rushing) vs. 0 interceptions in the NFC divisional round at New Orleans. Brady has 6 touchdowns vs. 0 interceptions in 2 career starts at Green Bay. … RB Ronald Jones set career-highs in scrimmage yards (1,143), rushing yards (978) and rushing touchdowns (7) in 2020. Rushed for 113 yards and 2 touchdowns in Week 6 meeting against the Packers. … RB Leonard Fournette has 525 scrimmage yards (105 per game) and 6 touchdowns (5 rushing, 1 receiving) in 5 career playoff games. He had 107 scrimmage yards (63 rushing, 44 receiving) and a receiving touchdown in the NFC divisional round at New Orleans … WR Mike Evans ranked fourth in the NFL in receiving touchdowns (13) this season. Had 1,006 receiving yards in 2020 and is first player in NFL history with 1,000+ receiving yards in each of his first 7 seasons. Evans had a receiving touchdown in the NFC divisional round at New Orleans. … WR Chris Godwin has 5 receiving touchdowns in his past 5 games, including the playoffs. He has 5+ catches in 6 of his past 8 road games in 2020, including the playoffs. … TE Rob Gronkowski had a touchdown catch in a Week 6 meeting with the Packers. He has 12 career postseason receiving touchdowns, tied for second-most in NFL history. … LB Lavonte David had 8 tackles and 1.5 sacks in the Week 6 meeting. He has 24 forced fumbles since 2013, tied for second-most in NFL. … LB Devin White had 11 tackles, an interception and a fumble recovery in NFC divisional round at New Orleans. He had a sack in the last meeting. White was the first player since 2000 with 140+ tackles (140) and 9+ sacks (9). … LB Jason Pierre-Paul has 5 tackles for loss and 6 passes defended in 6 career postseason games. He had 1.5 sacks and a forced fumble in the last meeting against Green Bay. … CB Jamel Dean had 32-yard interception-touchdown in Week 6 meeting. … Packers QB Aaron Rodgers led the NFL with 48 touchdown passes, tied for fifth-most in a single season in NFL history, and became the first quarterback with 3 seasons of 40+ touchdown passes. Rodgers has 16 touchdowns (15 passing, 1 rushing) against an interception in seven career home postseason starts. Rodgers has 2+ touchdown passes in 8 consecutive postseason starts, tied for the longest streak in NFL history. … RB Aaron Jones has 5 touchdowns (4 rush, 1 receiving) in 3 career playoff games and aims for his fourth in a row in the postseason with a touchdown. Jones is ranked seventh in the NFL with 1,459 scrimmage yards (career-high 1,104 rushing, 355 receiving) and had 11 touchdowns (9 rushing, 2 receiving) in 2020. Jones has 28 touchdowns (25 rushing, 3 receiving) in 28 career home games, including the playoffs. Aims for his fifth in a row at home with 100+ scrimmage yards, including the playoffs. … WR Davante Adams led the NFL with 18 receiving touchdowns in 2020, tied for third-most in a single season in NFL history. Tied for second-most in receptions (115) and tied for fifth in receiving yards (1,374) this season. Adams became the fourth receiver in
NFL history (Hall of Famers Cris Carter, Randy Moss and Jerry Rice) with 110+ receptions and 15+ receiving touchdowns in single season. Has 5 receiving touchdowns in 4 career postseason home games. Adams is looking for his fifth game in a row at home in the playoffs with a touchdown catch. … WR Allen Lazard led the Packers with 96 receiving yards and a touchdown catch in the NFC divisional round vs. Los Angeles. … TE Robert Tonyan had a career-high 11 receiving touchdowns, tied-most among TEs in 2020. Has a receiving touchdown in 6 of his past 8. … LB Za'Darius Smith is tied for fourth in NFL with 12.5 sacks and tied for third with a career-high 4 forced fumbles in 2020. Smith had a sack in the NFC divisional round vs. Los Angeles. … DL Kenny Clark had 1.5 sacks in the NFC divisional round vs. Los Angeles. He has a sack in 2 of his past 3 postseason games. … S Darnell Savage has 9 passes defended and 4 interceptions in his past 6 home games.
The Last Word: If the Bucs win today, they will become only the fourth team this century to advance to the Super Bowl as a wild card and the first since 2010. The last wild card team to advance to the Super Bowl? Green Bay Packers.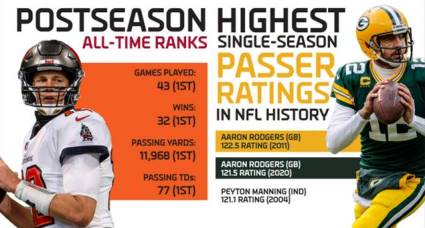 — Tom Brady (@TomBrady) January 18, 2021
This will blow your mind. #Brady #Goat @getupespn pic.twitter.com/zZvuvNd4c6

— Mike Greenberg (@Espngreeny) January 21, 2021