Bucs Will Go "Heavy"
January 23rd, 2021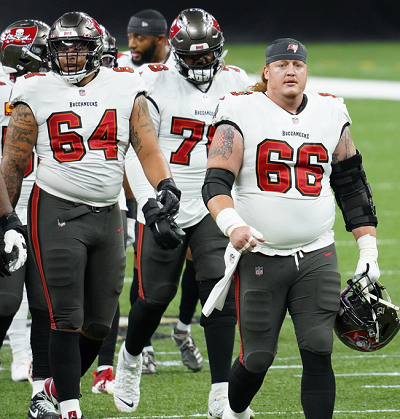 Bill O'Brien, the ousted Texans coach and one of Tom Brady's former offensive coordinators with the Belicheats, was talking Bucs-Packers this week.
Nothing screams "we're running the ball" quite like when the Bucs bring in reserve offensive lineman Joe Haeg as an eligible tight end. He is there to block, not catch. On SiriusXM NFL Radio this week, former Bucs scout and Jets personnel chief Pat Kirwan noted the Bucs' extensive use of Haeg in the "heavy package" against the Saints last Sunday — and the Bucs' success running out of that front.
Kirwan asked O'Brien on the air about the Bucs' "heavy" set and what he thinks of it.
O'Brien dove into the Xs and Os, saying once you play-action out of that set and use it as often as the Bucs do, then teams will disrespect the presence of Haeg and blitz whoever would be covering him if he were a receiving threat.
Packers defensive coordinator Mike Pettine is the kind of guy that will aggressively counter the heavy package with blitzing, O'Brien said, and the Bucs will need to be mindful of that.
Regardless, O'Brien said he expects the Bucs to continue with the "heavy package" because they're running successfully from it and the line is blocking well overall.
Bucco Bruce Arians repeatedly has praised Haeg in that role and Joe certainly expects it to continue.
Hey, it's working. No defense wants to see a 6-6, 310-pound lineman with fresh legs checking in when the Bucs still have an arsenal of weapons on the field.
As strongly as the Bucs' starting receivers block, lining up with Haeg and Rob Gronkowski in that "heavy package" should net at least five yards per carry rather consistently.
---
Derrick Brooks Looks At The NFC Heavyweight Title Bout
TAMPA TWO is back with Bucs legend Derrick Brooks and Sage JoeBucsFan.com columnist Ira Kaufman diving into Sunday's NFC Championship game. More fun from The Identity Tampa Bay and Joe.