Buccaneers 31, Washington 23
January 9th, 2021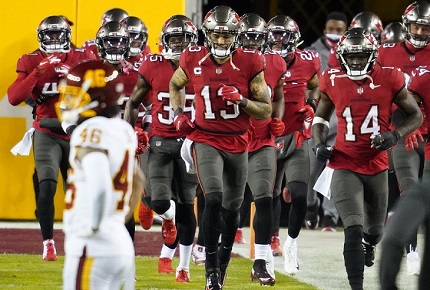 Bring on the Saints!!!!
Or another home game against the Rams!
The Bucs had their struggles tonight in Washington, but they powered through and did a handful of impressive things.
First, racking up 31 points and 500-plus yards of offense on Washington is damn special. The hadn't allowed more than 20 points — twenty — since Nov. 15.
The Bucs were balanced, with Tom Brady hanging 381 yards and two touchdowns on Washington, and the run game was there through th night.
Unfortunately, the Bucs also impressed by making Washington quarterback Taylor Heinicke, a true third-stringer that was out of football for much of this season, look like a special quarterback.
Even without a running game, Heinicke was able to carve up the Bucs. Totally unacceptable for a prideful Bucs defense that finished in the NFL's top-10.
Major love for Mike Evans bouncing back after an ugly knee injury with 119 yards on 6 catches and 10 targets, and Cameron Brate was money all game. How bout two seventh-year Bucs shining in their first taste of the playoffs!!
Chris Godwin had the dropsies and Rob Gronkowski was invisible, and the Bucs offense didn't even need them.
The depth showed up big time, with Ted Larsen stepping in for injured Alex Cappa, and Leonard Fournette rising up with a full-time load for injured Ronald Jones (bad quad).
A big sack late by Lavonte David was a sweet ending to the Bucs' first playoff win since the Super Bowl 18 years ago!