Bruce Arians Talks Ke'Shawn Vaughn Fumble
January 12th, 2021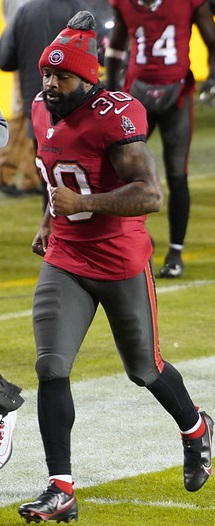 Rookie running back Ke'Shawn Vaughn had a multiple highs and lows in his playoffs debut, and Bucco Bruce Arians talked about them last night.
The third-round pick entered the game in the first quarter and promptly got screamed at by Tom Brady and a checkdown to him went incomplete. It seemed like Vaughn might have been a yard away from where he was supposed to be.
Then came back-to-back, falling-forward runs of four and 3 1/2 yards, which set up a third-down, play-action touchdown pass to Antonio Brown.
Vaughn returned midway through the third quarter and had runs of three and six yards before a third carry got him seven yards but finished with a fumble with the Bucs leading 18-10 and driving in Washington territory. It was an ugly turnover, nothing like Vaughn's first career fumble when he took a massive hit in Chicago after an over-the-middle catch.
"I hate for Ke'Shawn's fumble because he was running really, really well," Arians said on Buccaneers Radio. "He's got great potential. He just had a ball stripped, got a little bit loose with it and it got punched out. He'll do better. I mean he was out there working [last] Tuesday on his ball security. He's got a lot of pride and he is one heck of a young back."
Ronald Jones' quad injury that sidelined him in Washington remains a mystery, so Vaughn certainly could be a critical piece going forward.
He's clearly got a lot of juice and power in his running style, but the fumbling won't be tolerated. Vaughn did not get another carry following Saturday's fumble.