Bruce Arians Says Bucs Must Stop Forcing Balls To Mike Evans
January 27th, 2021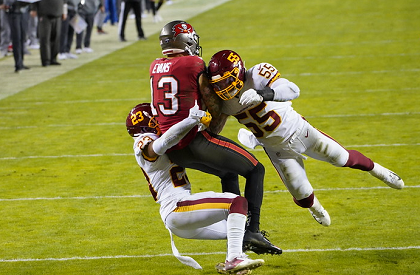 Ever since Mike Evans entered the NFL catching passes from Josh McCown and Mike Glennon, fans have watched Bucs playcallers be tempted to pound the ball to Evans whether he was open or not.
Dirk Koetter made it an art form.
Bucs fans have seen less of that this season, a lot less. But it's still an issue at times, per Bucco Bruce Arians, who confessed on the Buccaneers Radio Network this week.
"We threw a couple of interceptions [against Green Bay] trying to get [Mike Evans] the ball," Arians said. "And I think sometimes we know Mike is such a weapon we say, 'Let's force it to him.' And I get in that habit myself. Just let it play out. You know, let Chris [Godwin] and Scotty [Miller] and everybody else do their job. We had a big, big screen pass to Gronk in the fourth quarter, but yeah, sometimes we can force it to Mike."
Against the Chiefs on Nov. 29, Evans had three catches and 50 yards on nine targets, including two touchdowns. That's nice production, but it was Rob Gronkowski and Chris Godwin who were the Bucs' receiving standouts on that day, and certainly the Bucs expect Evans to haul in more than one-third of the balls thrown his way.
The Bucs' receiving corps is historically loaded and balanced. There's no reason to force the ball to anyone.
Tom Brady should be able to find the open man all day long if he has time to throw.