Bruce Arians' Message To Players: Look But Don't Think
January 20th, 2021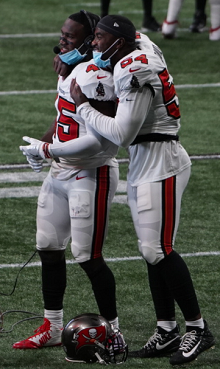 Once upon a time, Buccaneers coaches used to be concerned about players driving down Dale Mabry Highway and getting ideas as they stared at the marquees of Mons Venus and 2001 Odyssey.
Nowadays, Bucco Bruce Arians is worried about something else when his players cruise around Tampa.
All that Super Bowl hype signage on every other Tampa street-light pole, plus Super Bowl displays seemingly everywhere, easily could get players thinking past the NFC Championship game.
Arians said today that he is telling players to keep a razor focus on the Packers and to avoid the noise literally all around them.
"You start thinking about the Super Bowl, get your ass beat and be packing your bags on Monday," Arians said.
It's certainly a rare dynamic to have a team surrounded by so much Super Bowl hype long before qualifying for the game.
Joe suspects there are a handful of psychologists out there who would claim it's somehow a good thing.