Bruce Arians Compares Bucs To Super Bowl Winner
January 5th, 2021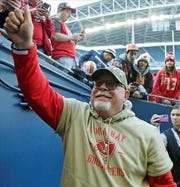 Yes, Bucco Bruce Arians owns two Super Bowl rings.
They were earned calling plays for the Steelers.
Arians' first came in 2005, with Willie Parker (1,202 yards) and Jerome Bettis (9 touchdowns) pounding the rock for run-first Pittsburgh that could also carve up a team with receiver Hines Ward and tight end Heath Miller. Those Steelers, of course, were more about ferocious defense, marching through the playoffs and beating Seattle 21-10 in the Super Bowl.
Talking yesterday on WFLA-TV, Arians said he sees that club in the current Bucs.
"This team reminds me a lot of the 2005 Steelers," Arians said. "They have a lot of fun. They're really, really close. Some times are offense and defense and they don't click together sometimes. But this team really reminds me of the 2005 Steelers in how much they care for each other; we were also Wild Cards and went all the way and won the Super Bowl. So I think each and every day in the last month the intensity has picked up. And I expect to pick it up again a little more this week."
As far as the closeness of the Bucs, don't discount how much the delayed flight to Carolina in mid-November helped further bond the team.
Players were stuck on the plane and at Tampa airport for several hours. Cameron Brate talked about this phenomenon on the Buccaneers Radio Network. Remember, in this year of The Sickness, guys can't eat lunch together in groups and don't go out for beers and babes after games.
The Bucs are three more wins from the Super Bowl. Joe's glad to hear Arians believes they mirror a Super Bowl team.