Bruce Arians: Cold Is Mind Over Matter
January 18th, 2021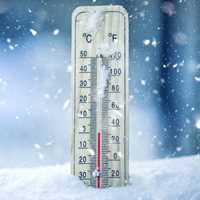 The Bucs have done OK this century when the temperature is below 40 on gameday.
The Bucs are 3-3 in those conditions. If you want to include 40 degrees at kickoff, the Bucs are 4-3 (it was 40 at Washington a week ago).
Unlike in years past when anything below 40 was a virtual loss for the Bucs, that may not be the case Sunday when the Bucs travel to east-central Wisconsin to face the Packers on the frozen tundra of Lambeau Field.
A TV news director from Milwaukee, a Bucs fan raised in St. Petersburg, texted Joe today saying it appears the weather in Green Bay will be "around 30" with snow. AccuWeather.com is predicting 26 and snow.
Joe knows from being raised in the Midwest that predicting the weather anything more than three days out is a roll of the dice. So we shall see. Joe is hoping for a temperature above freezing like at Washington.
Today, Bucco Bruce Arians dismissed the cold as being a factor.
"It's just a matter of staying warm on the sideline," Arians said in his day-after presser. "Every time I've played in Green Bay, Pittsburgh, Cleveland [or] Buffalo, nobody was cold out on the field. It's more mental and staying warm on the sideline.

"We've got all that technology now with the heaters and everything else. It's different, but it's not that big of a deal for us."
The Bucs have a roster full of guys either used to the cold or from cold climates, especially younger guys and the offensive line.
Sean Murphy-Bunting played at Central Michigan. Scotty Miller is from suburban Chicago. Tyler Johnson and Antoine Winfield both played at Minnesota and are from there. Tristan Wirfs is Mr. Iowa. Cameron Brate talked today about his time at Harvard, noting the cold is no big deal in the NFL because teams have heated benches and all kinds of warm gear.
And of course, park-violating, home-invading, NFLPA-ignoring, down-forgetting, handshake-stiffing, jet-ski-losing, biscuit-baking Bucs quarterback Tom Brady played the past 23 years in New England and Michigan.
If it snows Sunday, the Packers may very well have an edge, having already played in snow against Tennessee last month.
And yes, you can make big plays on the frozen tundra. Who could forget this rumble by ex-Bucs running back LeGarrette Blount at Lambeau Field in 2011. The wind chill was 25 degrees, but the Bucs (4-5) lost to the then-undefeated Packers.
LeGarrette Blount running right through the defense… @LG_Blount (via @nflthrowback) pic.twitter.com/sMxunsT7yn

— NFL (@NFL) August 21, 2020
---
Buccaneers legend Derrick Brooks is here to talk about yesterday's physical and aggressive masterpiece. It's more TAMPA TWO with Ira Kaufman from The Identity Tampa Bay and Joe.
Great stuff this morning from Brooks.