Aqib Talib And Chris Long Explain Tom Brady Is "In For A Dogfight"
January 8th, 2021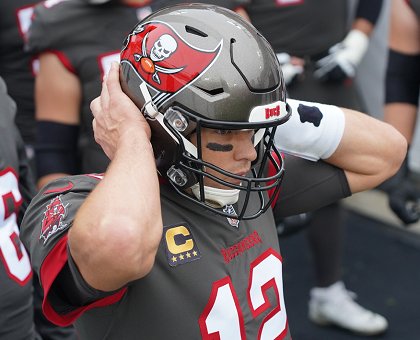 Tom Brady's good buddy and former teammate Aqib Talib, the helmet-wielding, cabbie-slugging, Adderrall-popping, coach-cussing, referee-charging, pistol-friendly, granny-hassling former Buccaneer, is confident the Bucs and Brady will have a challenging rumble with Washington on Saturday night.
Joe's a huge fan of Talib's Call To The Booth podcast. What's more fun that Talib unleashed? Loads of football knowledge, no filter and a Mike Tyson-like voice at warp speed.
Talib was joined recently by retired defensive end Chris Long, a two-time Super Bowl winner and a former teammate of Brady.
They both agreed that Washington's defensive line will change the Bucs' electric offense.
"If you're going to tame Tom in any way, it's gotta be the D-line who gonna tame him. They gotta get on his ass," Talib barked.

"I seen [the Eagles] do it and win a chip. I seen us [in Denver] do it and put him out of the playoffs. And the games that you see Tom rattled a little bit is definitely because the D-line, not blitzing really, a couple of blitzes but it's got to be a four-man rush. Because he'll tear your ass up if you don't have a four-man rush. He's just too smart against man coverage, too smart against zone coverage."
Long says derailing Brady, aside from hitting him, is about making the Bucs protect with seven guys and have to "chip out." And then maybe at the end of the game they won't be able to protect if they're forced to do it with fewer players.
Talib predicts the Bucs are "in for a dogfight" with the Bucs winning 31-21 on a late cover of the spread in a game that is closer than the final score. Long didn't pick an exact score but predicts a high-scoring Bucs win, similar to Talib's line.
This season began with the Bucs' top priority being to protect Brady. That hasn't changed, and it will be magnified on Saturday.
---
Tampa Bay legend Derrick Brooks and iconic Hall of Fame voter and JoeBucsFan.com columnist Ira Kaufman get after it in Episode II of TAMPA TWO this week. All the fun and wisdom is presented by The Identity Tampa Bay and Joe.