Another Money Game For Donovan Smith
January 17th, 2021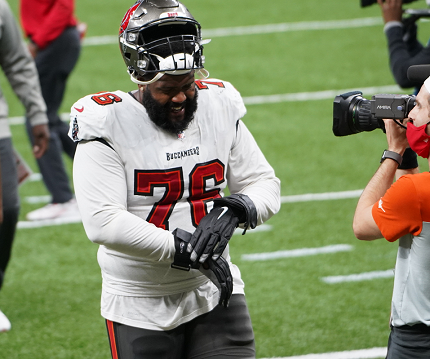 Who could forget when Saints loudmouth asshat defensive end Cameron Jordan ripped Donovan Smith publicly when the Bucs' left tackle signed a fat new contract in March of 2019.
Joe's got the Tweet below, in case anyone forgot.
Tonight, Smith continued his beastly play at left tackle and the Saints' vaunted pass rush managed just three hits and a sack on Tom Brady.
Smith and left guard Ali Marpet teamed up to screw up on a pass rush game run by the Saints in the first quarter, but Smith settled in beautifully after that. Dude was a stone wall and Jordan can watch TV on his couch next week wondering why he couldn't breathe on Brady.
Joe is impressed at how Smith has found more consistency to his game — under high pressure against strong opponents. He hasn't had a clunker of a game in a while and his run includes to standout playoff performances.
For those who have been eager to dump Smith next offseason, Joe is confident Smith will stick around if Brady has any say in it. Or, if he does indeed go so the Bucs can save the $14+ million they owe him, the Bucs certainly will find a trade partner.
Now, however, Joe's only wondering what Jordan will eat next week …
@aokafor57 😶🥴🙋🏽‍♂️ food solidified for another 3 yrs now come on back bruhhda https://t.co/8hXjOW4a1f

— cameron jordan (@camjordan94) March 5, 2019