Writing/Burning The Script
December 21st, 2020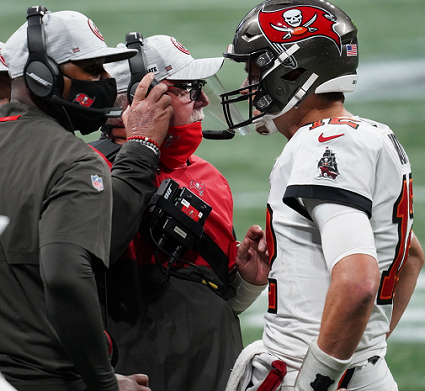 When Team Glazer hired Bucco Bruce Arians, they bought one of the most skilled playcallers in the NFL, a guy well known for his process of scripting plays to start a game.
Except he's not calling plays for the Bucs.
Back when Arians was hired in January of 2019, no Bucs fan could have a imagined that a Tom Brady-led Tampa Bay offense, loaded with truly elite talent and experience, would be one of the very worst in the NFL in the first quarter.
For perspective, through all the third and fourth quarters of 2013, the brutal Bucs offense featuring Mike Glennon, Tiquan Underwood, Bobby Rainey and Tim Wright averaged just 5.2 points. (No, Team Glazer never issued refunds or apologies.) Over the past nine games of 2020, the star-studded Bucs are averaging less than two points in the first quarter.
What highlights the first-quarter impotence is Arians' making it clear that he, Byron Leftwich and Tom Brady work to formulate the game's script of plays. It's an intensely detailed process that Arians broke down for TheRinger.com a few years ago.
…  …"[I want] to get [an opponent's] substitution patterns early," Arians said. "A lot of times, you [want] to get a receiver or two involved quickly, if you can, just to get their spirits up so they'll block."
Whatever's happening now, the Bucs offense is sputtering when it shouldn't.
There is no excuse.
So what about the weekly script?
An optimist might argue the early screwups set up the late-game heroics, meaning the Bucs hit the failed plays early, learn from them and adjust. But that, if true, is a recipe to get beaten by a good team, not a formula for success.
There's enough evidence to say the scripts have been miserable for months, and that's on coaching. Joe can't point a finger anywhere else.