Ira Kaufman's 10 Takeaways From Bucs-Falcons
December 21st, 2020
BY IRA KAUFMAN
How sweet it is. How sour it could have been.
If the Bucs hadn't rallied from that 17-0 halftime deficit in Atlanta, they'd be clinging to a one-game wild-card lead over Chicago with two weeks remaining, knowing the Bears own the head-to-head tie-breaker.
That scenario would have led to a very nervous Christmas week for Tampa Bay fans.
It didn't happen because Tom Brady threw for 320 yards in the final two quarters and Devin White provided a pass rush that was woeful for most of the afternoon. Another lousy start, another frantic finish.
Ladies and gentlemen, welcome to Buc Ball 2020.
The short flight home was jubilant because the Bucs need only one more win to end that ghastly postseason drought. Up front, near the cockpit, Tampa Bay coaches looked at each other, hoping someone had an answer for all these early holes this team is so adept at digging.
Those late comeback bids fell short against playoff-bound teams like the Chiefs and Rams. On Sunday, facing a going nowhere club playing out the string, the Bucs were tied into knots by Matt Ryan.
Noting that Private Ryan had ample time to survey the field through three quarters is a little like saying metro Atlanta has some traffic issues.
Why state the obvious?
The Bucs still have a chance to finish the regular season 11-5, with a 4-game winning streak. If they can straighten out their early stumbles, they'd likely be a very tough out in the playoffs.
But "if' is one of the most diabolical words in sports. If the Rays played in a better stadium closer to Tampa, they'd draw more fans. If USF landed a big-time quarterback, the Bulls could be competitive. If Tony Romo would shut up once in a while, he'd be a better listen.
The last time the Bucs stood at 9-5, the year was 2008 and Tampa Bay was in the midst of a December swoon that ushered Jon Gruden out the door at old One Buc Place. They've upgraded the facility and upgraded under center, so there's no reason to believe Bruce Arians is about to be jettisoned.
Here's how they handed Raheem Morris and the Falcons yet another crushing setback: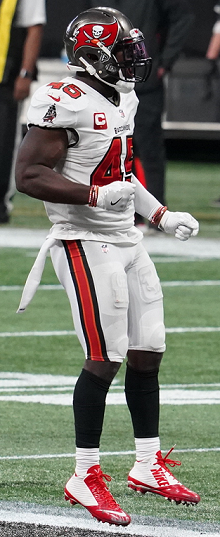 * Even with all of Brady's second-half production, the Bucs don't win this game without their dynamic second-year inside linebacker. White's 10 solo tackles were three more than any other player on the field and even more importantly, he dropped Ryan three times in the fourth quarter. Add in two passes defended and this may have been White's signature game as a pro. The Bucs needed every bit.
* Trailing 17-0, the Bucs were on the balls of their ass until Mike Evans did some heavy lifting. The Falcons had no answers for him in the second half as Evans finished with six catches for 110 yards. He's still got a credible chance to keep that 1,000-yard streak going.
* This early malaise is no joke. Tampa Bay hasn't led after the first quarter since Week 5 at Chicago. In the past nine games, the Bucs have been outscored 83-17 in the opening 15 minutes. That's called living dangerously. That's called an early playoff flameout. The Bucs don't respond until they've been punched in the mouth. What's wrong with coming out of the corner like Mike Tyson?
* In a game this close, little things count. Take a bow, Bradley Pinion, for placing three of your five punts inside the Atlanta 20.
* Antoine Winfield turned in the defensive gem of the day by deflecting Ryan's pass in the end zone intended for Calvin Ridley. White registered a sack on the next snap and the Falcons had to settle for a FG and a 27-24 advantage. Winfield never gave up on the play, saving four points.
* While Jamel Dean broke out of his slump with a strong effort, Jason Pierre-Paul took the afternoon off. He and Ryan were in different area codes most of the day and JPP failed to make the post-game stat sheet.
* The Falcons pushed the Bucs around for 30 minutes, but Tampa Bay didn't self-destruct. There were no turnovers and only one flag for 10 yards.
* How dominant were the Bucs in the third quarter? How about 15 first downs? That was quite a turnaround after Tampa Bay's first four possessions generated 62 yards and ended with four punts.
* As well as Brady played, Ryan was no slouch. He finished with a passer rating of 110.6, compared to Brady's 110.4, as two veteran quarterbacks aired it out 94 times. Evans was very good — Ridley was even better with 10 catches for 163 yards. He looked like the second coming of noted Buc-killer Julio Jones, who didn't dress due to injury.
* Before next Sunday's slate of games, the Bucs should be resting easy with a playoff berth guaranteed. All they have to do is go into Motown Saturday and win a matchup that should be signed, sealed and delivered. Tampa Bay is an early 7 1-2 point favorite and Brady figures to enjoy another big day. Kickoff is slated for 1 p.m., so the visitors should be ready to rumble about 2:45.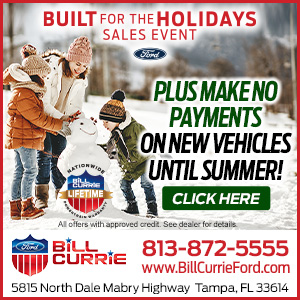 Joe's good friend Sean Sullivan, the general manager of ⁦@BillCurrieTampa⁩, is ready for the playoffs. Imagine tailgating at a Bucs game in a new 2021 Ford Bronco Sport. Bill Currie Ford has them. Stop in and talk to Sean (about that Alstott jersey, too). pic.twitter.com/4HxSkZSPjs

— JoeBucsFan (@JoeBucsFan) December 16, 2020