"Thank All The Fans, Too. Great Job."
December 13th, 2020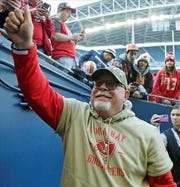 Many media-snob types like to say there is no home field advantage in the NFL this season.
They blame The Sickness leading to many empty stadiums. Joe would counter by saying that's more theory than anything else.
Regardless, the Bucs have 15,000 or so fans in the stands each game and they matter. They're audible on TV and they provide energy for the players to feed on if they choose.
Bucco Bruce Arians went out of his way at the close of his Buccaneers Radio Network postgame interview today to give a virtual thumbs up to the Bucs faithful in the stadium during the beatdown of the Vikings. "Thank all the fans, too," Arians told host T.J. Rives. "Great job."
That struck Joe. The fans always matter, and screw anyone who says they don't.
Fans are allowed at Atlanta next Sunday, and Joe knows Bucs faithful making the trip, hopefully to watch the Bucs clinch a playoff berth in person.
One fan in Tampa today was NFL strongman Roger Goodell, sitting in the fresh air with his wife. On the broadcast, FOX announcers said Goodell was there to review Super Bowl plans. The game is scheduled for Feb. 7 in Tampa.
Joe firmly expects the Bucs to make the playoffs, but Joe sure hopes that somehow the Bucs face a division winner in the playoffs in a venue where fans can attend.  You just know, absolutely know, many Bucs fans will spend every nickel they have to be at the game that breaks the 13-year playoff drought.
Bucs fans deserve that chance. And if they get it, Joe is sure they'll make a difference.