Championship Clock Management
December 13th, 2020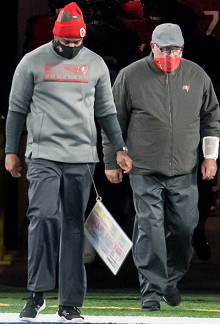 Joe has to give a standing ovation for how the Bucs handled the end of the first half.
Bravo! It feels like a lifetime ago that Bucco Bruce Arians called back-to-back timeouts (against the rules), and took penalties to set up Matt Gay for a miss.
Today, the Bucs were magical before halftime. It was true championship-caliber stuff.
After the Bucs scored late in the second quarter to take a 14-6 lead, the Vikings started a new drive on their 25 yard line with 44 seconds left and timeouts in their back pocket. Thankfully, the Vikings passed on first down and threw incomplete. They ran on second down and the Bucs pounced after the no-gain play; they called their second timeout with 35 seconds remaining.
The Vikings threw incomplete on third down, punted on fourth down, and Tampa Bay started at their 28 yard line with 21 seconds remaining and one timeout in the bag.
Brady threw for 9 yards to Cameron Brate over the middle and quickly called timeout with 15 seconds left. Joe hated the short throw, but the Bucs played it perfectly.
On the next play, Brady went back over the middle to Antonio Brown for 16 yards and the Bucs hustled to spike the ball and somehow got it done with a second left on the clock. That only happens when you practice effectively. Then the Bucs threw the prayer to the end zone from the Minnesota 47 yard line and got the pass interference call on a perfectly thrown ball to Rob Gronkowski.
The wise move came next, a field goal with no time on the clock to take a two-score lead, 17-6, before getting the ball back to start the third quarter.
That's how you freakin' close a first half!
Beautiful stuff, the kind of sequence the crushes the spirit of an opponent and certainly makes your fans and players believe in the coaching.