Teamwide Woes On Third Down
December 8th, 2020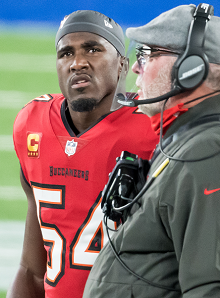 The numbers don't lie, and our beloved Tampa Bay Buccaneers are thoroughly average on third down — on both sides of the ball.
The "money down," as its called, really matters. It's certainly a huge deal in the playoffs.
The Bucs are allowing opponents to convert 41.72 percent of their third-down attempts. That ranks 16th in the NFL.
It's a stunning departure from last year's Bucs, which were third-best in the league at 34.4 percent. Has the NFL figured out defensive coordinator Todd Bowles and his inexperienced secondary? It sure seems that way.
The Vikings, Sunday's opponent, have held teams to a 36.36 percent conversion rate on third down, sixth-best in the NFL, which is rather stunning since they don't have much of a pass rush.
On offense, the Bucs are equally as mediocre. The Bucs rank tied for 13th in the NFL at third-down conversion (42.95 percent), which is where they ranked after last season. The Vikings rank eighth this season.
Joe sees Sunday as a playoff game. And that's what Bucco Bruce Arians is telling players.
Well, to win in the playoffs, you usually have to play well on third down. Joe will not-so boldly predict third down will be the story of Sunday's game.