Surprising Workload Drop For Ndamukong Suh
December 22nd, 2020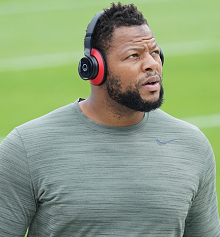 Joe sure hopes everything is ok with Ndamukong Suh, who two Sundays ago against the Vikings got a game ball from his head coach after having maybe his best day as a Buccaneer.
Following that Vikings game, Bucco Bruce Arians was raving about Suh's "relentless" day against Minnesota, when Suh logged 54 snaps, a rather typical total for him.
So it surprised Joe to see Suh take just 42 snaps against Atlanta, representing 65 percent of the defensive plays.
The Bucs' defensive line rotation was in full swing, with even Jeremiah Ledbetter having his busiest day of the season and his first game action in two months.
Given what was at stake against the Falcons on Sunday, Joe just found it odd that Suh's snaps were cut. And overall, his play didn't seem as energetic as it was in the prior week.
Joe suspects Suh will be extra motivated to play Saturday in Detroit, where he made his name as an All-Pro and still has lots of fans. But Joe will be monitoring the situation.
Joe would love to see the Bucs find a way to rest Suh in Week 17 to prepare for the playoffs — he sure was great off the bye week — though it's unlikely.