Shaun King: Blame The Players
December 26th, 2020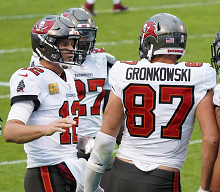 Yeah, yeah, yeah, slow starts to games. Bucs fans have been witnessing them — and hearing about them — for many weeks.
Former Bucs QB Shaun King put his foot down on national radio when it comes to the cause of this Tampa Bay sickness.
Retired superstar NFL running back Tiki Barber asked King whether it was correct to wag a finger at offensive coordinator Byron Leftwich, Tom Brady or Bucco Bruce Arians.
King went in another direction.
"I think it goes to the players, and here's why I say that: You love this game; I love this game. We know that to play this game at a high level there's a certain energy and effort level that exists on championship teams, and that's kind of what you don't see all the time from Tampa. They kind of are hot and cold as far as like how engaged and enthusiastic they seem about playing the game of football.

"And so I'm not going to put that on the coaches, I'm going to put that on the players. Like when you're professionals, you're supposed to show up and play the game with a love and a passion that is unbeknownst to most people that walk this earth. They don't play it like that for fourth quarters. … I just think when you're hot and cold like that, that's a player thing. That's not a coach thing; that's not an organization thing. The players have to find a way to get themselves ready to go emotionally from week to week, and championship teams do that."
Joe agrees with King and understands the limits of coaching, but ultimately coaches are responsible for getting players ready, regardless of the sport.
---
Derrick Brooks Pleads For A Complete Game
Another great episode of TAMPA TWO loaded with insight from Buccaneers legend Derrick Brooks alongside JoeBucsFan.com columnist Ira Kaufman. Don't miss this one as the Bucs sit on the cusp of the playoffs.