"Sex Appeal"
December 30th, 2020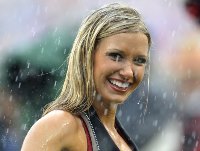 Bucs fans and Bucco Bruce Arians may not want to hear it, but this easily could come true.
Earlier this week, Joe brought an item from Peter King of NBC Sports who predicted the Bucs will get either a 4:25 p.m. Sunday kickoff timeslot for their first playoff game or a primetime time slot on Sunday evening.
This year with seven playoff teams from each conference and only the top-seed getting a bye, that means each conference will play three games in the opening round. So there will be six games total next weekend; three on Saturday and three on Sunday.
Because of the ability to draw eyeballs and his international superstar image, Bucs quarterback Tom Brady will likely be set up for the most viewers — and that ain't the 1 p.m. kickoff window.
Yesterday on the channel that bears his name, "Mad Dog Radio" heard exclusively on SiriusXM Radio, the one and only Chris "Mad Dog" Russo predicted it is a no-brainer that if the Bucs travel to play the Cowboys (who are still alive in the NFC East division title race) to open the playoffs, that the game will be on NBC on Sunday night.
Russo said of the possible matchup of Brady facing America's Team in Dallas before 35,000 fans, "It has sex appeal."
Joe thinks Russo is absolutely onto something. The Bucs have star power. The Cowboys are the Cowboys and they draw eyeballs. And given that NBC wets its pants from slobbering over NFC East teams — that game is sure to be a ratings blockbuster.
(TV networks don't give a damn about matchups. They care only about ratings. The Cowboys hosting Brady and the Bucs' fantasy football team would bring eyeballs.)
"That game would have juice," Russo said.
Russo is the strangest sports fan Joe knows of. Joe absolutely is addicted to one of the greatest sports radio hosts who ever lived, but the dude is beyond odd. Russo carries on about TV ratings the way Joe does about sacks. And you could have one of the greatest games scheduled to be played, but if there are few fans in the seats or the teams are from small markets with no crossover stars (players recognizable to non-sports fans), he doesn't care.
Russo may be the only sports fan that gives a damn about ratings or attendance. It's almost as if that's more important to Russo than who is playing.
For example, in 2019 No. 6 Oklahoma (with Kyler Murray at quarterback and the Sooners would later play in the college football playoffs) faced No. 11 Texas in their annual rivalry game in Dallas. It was a one-score game but Russo the following Monday said he "couldn't get into it," basically because the two teams were not undefeated. LOL
(Column Intermission: Joe has about had it with the coward college football coaches hiding behind The Sickness and not doing their jobs. Joe agrees with Russo that college football has been a mess because the schedules didn't mean a damn thing. Some games were called just a couple of hours before kickoff. You couldn't even wake up on a Saturday looking forward to any game. Talk about buzzkills! Joe remembers Washington canceled a game claiming all of their offensive linemen had The Sickness. Now hold up! You have 80+ kids on scholarship and who knows how many walk-ons. You couldn't find enough backup tight ends or fullbacks or linebackers or defensive linemen to convert to offensive line? You only needed 10 guys max. You didn't prepare players that they may have to play different positions to fill holes because of The Sickness? Shoot, every high school has players that can play multiple positions. Bill Belicheat even had receiver Troy Brown play cornerback in a Super Bowl because of injuries. That's just lazy, gutless coaching by guys who are looking to duck a game rather than risk maybe taking a loss. Throw all of your players under the bus so you avoid maybe getting hit with a loss. Coaches always ask their players to sacrifice and adapt and adjust and overcome and be flexible. Yet the coaches get a slight bit of adversity thrown at them and they hide like scared rabbits. Cowards!)
We all know how much the Bucs have struggled in primetime games. So if the Bucs face the Cowboys to start the playoffs, and are scheduled for Sunday night primetime, that would be so cool in just about every way possible.
Except knowing that the Bucs play some of their worst ball under the lights.