Expect A Late-Sunday Playoff Game
December 28th, 2020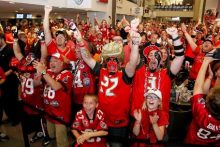 Joe wants to help everyone be 100 percent ready for the Tampa Bay Buccaneers' first playoff game in forever.
You know, ordering a tray from your local Hooters or filling your fridge with Florida's best craft beer takes at least a little planning.
NBC Sports' longtime NFL insider and chief pontificator, Peter King, wrote this morning in his column that fans should expect the NFL's TV network to place the Bucs in a prime Sunday slot (January 10) on the new wild card weekend that will feature six games.
I think it'll be interesting to see how the league balances the Wild-Card Weekend TV schedule. Three games Saturday and three Sunday—roughly the same each day, with 1:05 p.m. ET, 4:30 p.m. ET and 8:15 p.m. ET starts—for the first time this year. It used to be two each day. With the NFL selling the last two Sunday slots to the highest bidders, I would expect Tom Brady and the Bucs to be playing in either the Sunday late-afternoon or evening window.
Man, this gave Joe the chills.
Nothing will official until the weekend.
Imagine the Bucs in that final playoff game of Wild Card weekend. What an excruciating Sunday wait that will be. Joe probably will be checking the time every 11 minutes.
Joe's also fired up for the energy that will be pumping at the covered outdoor watch event (and indoors) at Big Storm Brewery in Clearwater. What a great season of game-watching it's been there with fired up Bucs fans and Ira Kaufman.
Sage @IKaufman76 will be out @BigStormBrewing Clearwater on Saturday for Bucs-Lions. Kickoff at 1 p.m. Sage rolls in at noon.
More halftime Bucs giveaways.
Covered open-air seating (or in the taproom). https://t.co/vGcehHQRHu.
Bring your Christmas hangover & savor a Bromosa!! https://t.co/RPE3wl3Kz2

— JoeBucsFan (@JoeBucsFan) December 22, 2020
DERRICK BROOKS OFFERS HIS POST-PLAYOFF-CLINCHING THOUGHTS