RoJo Has No COVID Symptoms
December 24th, 2020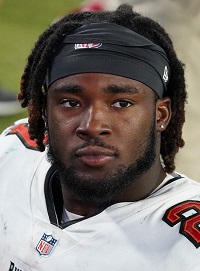 This is Day 9 for 900-yard rusher Ronald Jones on the NFL's COVID reserve list, and a Bucs official has provided insight into what life away from the team has been like for the Tampa Bay running back.
"He has no [COVID] symptoms so it's really frustrating for him and, you know I told him, 'Stiff-arm a bunch of pillows while you're at the house,'" Bucco Bruce Arians told SiriusXM NFL Radio.
The stiff-arm comment is a reference to RoJo's surgically repaired finger that he broke 11 days ago.
Since RoJo has been away from the team, the Bucs don't know how football-ready the finger is.
"Get that [finger] where you know what it feels like if you're going to use it for a stiff-arm. It's really hard on him because he's a great kid and he was having a fantastic year."
Regardless, Joe's glad to hear The Sickness hasn't taken down RoJo and, therefore, it's a safe bet he'll have no recovery-related issues when he returns.