Rob Gronkowski Is "Definitely Smarter Than He Lets On"
December 30th, 2020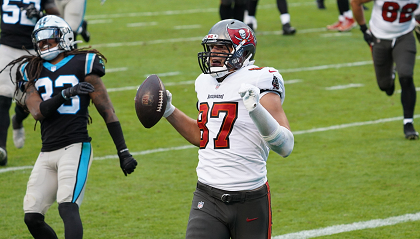 Back in May, a former teammate of Bucs future Hall of Fame tight end Rob Gronkowski had a rather graphic description of Gronk and his approach to football.
This week, Gronk was painted by a teammate and his coach in a very different light.
Fellow tight end Cameron Brate visited the Buccaneers Radio Network and shared what he believes is a little known fact about Gronk.
He's not all smiles, laughs, goofiness and tough-guy play.
"Definitely smarter than he lets on; you know, that's his little secret," Brate said of Gronkowski. "He kind of acts like he's aloof, but he always knows what's going on. He knows what he's doing and is just a great teammate. Really fun guy to be around."
Bucco Bruce Arians, also on team-sponsored radio, described Gronk as a focused workaholic who Arians has to dial back because he is so hungry to practice. Brate said the same thing, noting that after seeing Gronk's approach to football firsthand, "it makes sense" why Gronk has been so successful.
And here it is, Dec. 30, Gronk is peaking and finding the end zone with the playoffs days away.
Joe hopes Gronk isn't smart enough to demand a behemoth pay day from the Bucs after a strong playoff run.
---
Legendary Buccaneer Derrick Brooks is here twice a week on JoeBucsFan.com talking Bucs with The Sage Of Tampa Bay Sports, Ira Kaufman. Always can't-miss viewing for Joe. Analysis and insight presented by The Identity Tampa Bay and Joe.