"He's Got More Energy Than Any Person On Earth"
May 17th, 2020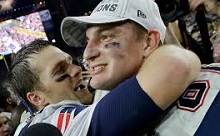 Joe has enjoyed learning a lot about Tom Brady and Rob Gronkowski, and projecting their impact on a Tampa Bay roster loaded with guys very familiar with losing and horrible starts to seasons.
Frankly, all that losing means a shakeup in mindset is needed if the Bucs want to go anywhere meaningful. Hopefully, Brady and Gronk can raise the mental games of their teammates in a hurry, the way Bucs officials think they will.
Brady's mentor and initial quarterbacks coach with the Patriots, Dick Rehbein, died suddenly about a month before Brady's first start. And Brady spent his early Patriots seasons with rats running over his feet during meetings inside decrepit old Foxboro Stadium.
Those kinds of experiences certainly build character.
Gronkowski, explained his former teammate and current neighbor Matt Light, is a high-energy, alpha-dog presence that makes an impact on every teammate.
Light's recent description on The Rich Eisen Show is one for the ages.
"He's got more energy than any person on earth," Light said of Gronk. "He's the Great Dane; the tail's always wagging. He's probably licking his nuts when you're not looking. You know, he's just always happy-go-lucky and he's been working it.

"Watching him over the last year, and he lives just down the road from me here in Foxborough, the guy's in better shape, but I mean he has taken working out to another level."
Light played in college with Drew Brees and then found himself at left tackle for a decade with Brady. He said he sees a very clear connections in the competitive drives of the quarterbacks.
"Even if they did it perfect this time, they really want to do it better," Light said. "A very cerebral approach to how they plan each and every one of their days, their nutrition. I mean, you've seen it with Tommy. You drink enough water. You never get a sunburn. Right? You always wear Uggs and Stetson cologne. He's got a system and I love to bust his chops. But it works and he does it really well every single day."
Overall, Light thinks Brady and Gronkowski will have so much fun and be extra driven playing away from Bill Belicheat, they will have excellent 2020 seasons, though he said that won't necessarily translate to Bucs team success because the standards are so high across the board on a Belicheat team.
Joe can't wait to watch this all play out, except the part about Gronk licking himself.